Mauricio Jordan starts this First web only paper
(Continued from front page)
Breaking News
After the decision was taken to use this newspaper template,I started orchestrating and putting into place all the elements that would help me get a head start on this long procrastinated personal project.
The motivation factor kept me going everyday, and though at times,I had some doubts about the whole worthiness of this new adventure that I was embarking upon,and with the encouragement from my wife,to persevere,I forged ahead.I still have a few sleepless nights brain storming the odds and the cons, and the reading public's reaction and participation to either condemn or praise my e-newspaper.
Questions,still to be answered,were pressing. Would celebrities,or the casual reader, think this was "just another tabloid",like the myriad already online,or a more decent e-paper interesting enough to bother reading? I will have to wait for the actual comments and inputs from you the readers,to see if it's worth it or not, to continue or to scrap the project all together. So,keep those emails coming to feed my inspiration and help me keep the momentum going strong. Thanks for your support.
Mauricio Jordan
-The Editor-
Latin Bombshell Shakira Having fun in The Bahamas
(Continued from front page)
Celebrity
.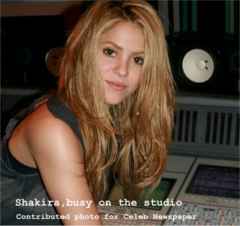 Shakira also contributed this photo showing us how busy she is at the controls in the studio.She said "I love all my fans mucho(a lot)and I am here mixing and fine-tuning my songs for the CD" And,she added:"los amo a todos!besos."(I love you all!kisses)And that she "hopes to see you at the upcoming concerts".Thanks Shakira don't work too hard.
You can follow Shakira on
Twitter
On another note,Rocker
Juanes
(@juanestwiter)continues creating controversy,but firm in his conviction to play his music in Havana,i will try to contact him to tell me more about this historical concert.Keep checking.
Artists prefer Walmart!
(Continued from front page)
Business
One of the most recent cases of this strict merchandising policy with the superstore is: Green Day's-the recently #1 Album in the country- "21st Century Breakdown",was refused to be carried by the store because they(Green Day)refused to edit and modify the language and content,after Wal-mart asked them to.
And as MTV Music online reported"Wal-Mart has a long-standing policy of not stocking CDs that come with a parental advisory sticker (as Breakdown does), instead offering "clean" versions of the albums with profanity and questionable material removed."
In Short,it is clear that the retail giant will give preference to the majority of "clean" songs from participating bands than the "vulgar" and "profane" ones,which will make musicians take notice before approaching mass retailers.