Mauricio Jordan starts his First web only paper
Breaking News

First Issue Launch:August 31, 2009
By:
Mauricio Jordan
I am starting,a web-only based e-newspaper. Since,my main concern is to save the forest trees from becoming extinct,I decided to go completely
green
. If this first attempt is a success,I plan to develop it as a real web-based newspaper,and hopefully,and initially, to be free for all.The main idea is to keep it simple,readable,and more often than not,
a one page newspaper!
Based on the current wastefulness factor,
of the regular newspapers,
I hope to make it easy to read,save,e-mail,share,and print(hopefully not too often!) like any other web document.
My wife,Maria Teresa,gave me the inspiration to go green,from her constant nagging about keeping recyclables in the recycle bin.And,since I have a mania for keeping things in order,I obliged. I give proper credit for this newspaper theme web page design to a talented programmer,Dan Myers,at
Maddesigns
,a website designing start-up.Thanks Dan,you're the best!
more »
More Environmental resources:
Al Gore Website
Leonardo DiCaprio
Latin Bombshell Shakira Having Fun in The Bahamas
Celebrity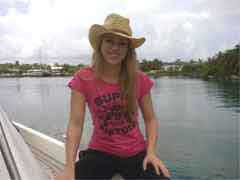 Colombian super-star Shakira, contributed this photo of her Bahamas stay,at her home away from home. She was excited, and mentioned in some online magazines about how she's "enjoying a mix of vacation and work",in the home that she,and Roger Waters(Pink Floyd)co-own and share.She's currently working in her secluded home music studio recording some of her new songs for her upcoming CD,"La Loba"(she-wolf.)
more »
Artists Prefer Walmart!
Business
Ever since some artists, like the Eagles,started marketing their CDs through such mass retailers as Walmart,this trend has become a must do for most artists to maximize sales and profits.
Walmart's
Chuck Fehlig, chief merchandising officer, said: "Artists could reach a greater number of customers,and more potential for profits when ,and if they pass our merchandising policy". "Many musicians today record songs with reference to advocating violence,racial slurs,and or insinuating promiscuous sex,and they will not pass our marketing with Walmart conditions",he explained.
more »